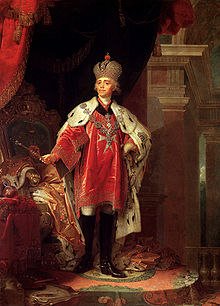 Paul I of Russia, whose mother was Catherine the Great, clocks in as the third worst ruler in Russian history. Born on September 20, 1754, Paul Petrovich was supposedly the son of Tsarevich Peter and his wife Catherine. It is more than likely the actual father was Sergei Saltykov. When he was born, he was taken away from his mother and was raised by Empress Elizabeth until he was eight years old. When Elizabeth passed away in 1762 he was surrounded by tutors such as Nikita Panin but his mother had little to do with him.
His early childhood would shape his mind set as he became entranced with military parades and processions. This would become an abnormal obsession when he and his second wife, Maria Fiodorovna, lived at the estate at Gatchina. There, Paul had his own personal army, which he ruled over, sometimes quite cruelly.
After his mother died, he decided to reverse many of Catherine's decrees, known as ukases. During his five year reign, Paul issued over two thousand ukases. It was his first domestic ukase in April of 1797 that lands him on this list as one of the worst Russian rulers. His idea of male primogeniture for the succession to the throne doomed the Romanov family. Instead of being able to select the best member of the family, male or female, the first born male had to become Tsar. The culmination of this rule was the ascension of Nicholas II, a man ill-suited for the position by his own admission.
While this ukase was a terrible blunder, if that was all Paul had done wrong, I would have dropped him down the list. Instead, he alienated the nobility with higher taxes, reintroducing corporal punishment for the nobility, and randomly sending people into exile to show off his unlimited power. He then angered the military by changing to a more Prussian model.
By 1801, his vacillation between supporting Britain or France was thought of as dangerous for Russia by many members of the court. A plot was hatched to remove Paul from the throne and replace him with his son Alexander, someone who Catherine had preferred. In March of 1801, A number of men stormed into his room and brutally murdered the Tsar. It is unlikely that his son was in on the assassination plan but was probably made aware that his father was to be taken off the throne.